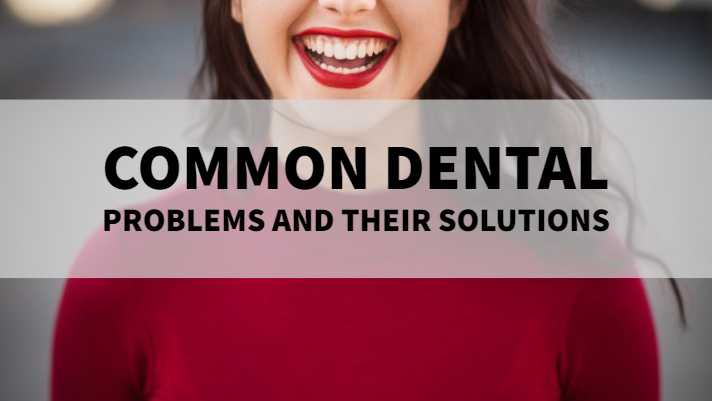 A healthy smile is a great asset.  Caring for your teeth and gums is important so that they can function at their best.  Your teeth should be able to help you chew and digest food, help you talk, and pronounce different sounds clearly.  They also help give your face its shape. 
Because your teeth are so important, it makes sense to give the best treatment for your teeth so you can smile beautifully and enjoy good food.
Consider the most common dental problems that you should watch out for and the recommended dental treatments to solve them.
Tooth Decay
After enjoying sugars and starches, dental caries or cavities can occur when the bacteria in plaque settles on your teeth.  They produce an acid that can slowly eat away at the tooth enamel and form holes.
The best possible approach to dealing with plaque is prevention with an oral health routine—brushing and flossing your teeth—and avoid eating too many sugary foods.  Using fluoride toothpaste can protect your teeth from decay.  The best treatments for decaying teeth include:
Fluoride treatment with a fluoride gel or mouth rinse at home

Standard filling

A crown

Tooth extraction
Tooth Infection (Root Infection)
This happens when the root of a tooth, the part buried in the gums, becomes infected and fills up with bacteria.  The nerves and the pulp tissue inside the tooth itself, if left untreated, get damaged.
The most severe root infections cause the development of abscesses that appear in the form of facial swellings.  This is a sign that a root infection has progressed to a more serious state.
The best solution is a root canal treatment, a quite lengthy and complex treatment that will save the damaged tooth by removing all the infected pulp tissue and nerves and filling with a tough material to prevent bacteria from entering and to strengthen the tooth.
Crooked or Twisted Teeth, Broken Teeth, Gaps, and Discoloration
Cosmetic dentistry has been developing through the years to improve the appearance of teeth through straightening, lightening, reshaping, and repairing teeth.  The best treatments for teeth that solve these dental issues are:
Veneers – thin slices of porcelain used to treat discolored teeth, closing gaps between front teeth, or repairing chips and cracks.

Fillings – can be used to cover unsightly marks on teeth, similar to veneers

Crowns – made of porcelain or porcelain bonded to gold to 'cap' badly broken or heavily filled teeth to restore appearance and strength

Bridge – used in the place of dentures for those who only have a few teeth missing.

Implants – alternatives to dentures and bridges that are surgically placed into the jawbone and act as anchors for fastening dentures or crowns onto

Teeth whitening – a complete color change treatment that lightens the existing shade of teeth.  It can be done through professional bleaching or laser whitening.

Orthodontic treatment – used to straighten crooked or twisted teeth to improve their appearance and how they work.  Braces come in different types:

Traditional metal braces that involve brackets and wires

Ceramic braces constructed of a ceramic material that blends into the natural color of the teeth

Lingual braces made of metal but are attached to the inside of the teeth

Invisalign braces utilize a series of custom-made clear plastic aligners that are worn over the teeth

Self-ligating braces are similar in appearance to traditional metal braces, but utilize clips rather than elastic bands to hold the wire of the brace in place.
Lost or Missing Teeth
Dentures are worn to replace lost or missing teeth so you can enjoy a healthy diet and smile with confidence.  They are made of either acrylic (plastic) or metal.
A complete or full denture is one that replaces all the natural teeth in either the upper or lower jaw.

A Partial denture fills in the spaces left by lost or missing teeth and may be fastened to your natural teeth with metal clasps or 'precision' attachments.
But, wait.  Dentures are not your only option for lost or missing teeth.  Bridges, dental implants or permanent dentures are other options to consider to get back those teeth.
Get Help for Your Dental Treatments
There are many treatments available for your teeth with significant ones that can only be carried out by professionals.
If you need more advice about your dental or oral health, contact a reputable dentist near you so you can maintain that perfect smile.